Top Speaker Playbook Application
Fill Out The Quick And Simple Application Below To See if you Qualify for For 2023 Empower & Inspire Youth Impact Speaker Scholarship Funding Today!
APPLY NOW
Trusted by over 1,000 Schools & Organizations
Introducing the Fall 2023 Inspire & Empower Youth Impact Speaker Scholarship: A Beacon of Opportunity, Impact and Community Connection! 
In the world of public speaking, dreams are born every day. But far too often, those dreams remain just out of reach, shackled by limitations, doubts, and financial barriers. That's why Top School Speakers and Awareness Elevation have come together to ignite a spark that will set ablaze the path to greatness for 110 deserving speakers.
Introducing the Fall 2023 Inspire & Empower Youth Impact Speaker Scholarship, a groundbreaking partnership committed to empowering Aspiring Speakers, Ambitious Educators, and Everyday Heroes.
This extraordinary scholarship program is granting:
55 scholarships of $15,000 each to dedicated individuals who have a passion for speaking and an unbreakable bond with their mission to inspire youth.
55 scholarships of $25,000 to be utilized by educators and young speakers, fostering community, connection, and innovation.
That's a staggering total of $2,200,000 in scholarship funding, ready to transform lives and make speaking dreams reality!
This isn't merely a financial opportunity; it's a journey of discovery, a lifeline to potential, and a pledge to make a tremendous impact with youth across the globe.
We're committed to nurturing not just your speaking dreams but also the community. That's why we've developed an unparalleled scholarship program to provide $2,2000,000 in scholarships for speakers, youth, and educators to access to our world-class program in order to make a HUGE IMPACT in youth and education:
Client Scholarships: A $15,000 Opportunity for You If You Are In The First 55 Approved Applicants
Empowering Educators and Youth: A Ripple Effect of Change
How It Works: Community, Connection, and Innovation
The BIG WHY: More Than Just a Coaching Program
✨ A Special Story That Could Be YOUR Story ✨
Meet Jacob, an aspiring speaker who stumbled upon our program at a time of desperation. He was passionate but struggling. That's when he was awarded the Top School Speakers & Awareness Elevation scholarship.
What happened next? Jacob went from speaking in empty classrooms to dazzling auditoriums. And here's the kicker - For every scholarship awarded, a deserving student or educator receives training to elevate their life and make an impact, just like Jacob.
Now, it's YOUR turn!
Your Golden Opportunity: Exclusive Scholarships for September 5th Top Speaker Playbook Community!
Only a Few Spots Left! Act Now!
Why Choose Top Speaker Playbook?
Proven Results: This is not just another program; this is YOUR success story waiting to unfold.
Lasting Impact: You're part of a greater cause, every enrollment fuels a scholarship, changes lives.
Your Tribe Awaits: Join a community that not only speaks but lives, breathes, and creates impact.
Urgency is Key: September 5th is around the corner. The time to act is NOW!
Apply For A Scholarship Today!
Apply today to see if you qualify, limited scholarships are available!
Here's everything you'll discover in Top Speaker Playbook:
Phase 1: Story
🔥Clarity Catalyst: Gain 100% Clarity on Your Vision and Purpose
🎤Style Selector: Choose Your Winning Speaking Style
🌟Signature Speech Formula: Create Unforgettable, Connection-Driven Talks
Phase 2: Strategy
🚀Authority Amplifier: Stand Out as the Go-To Authority
⚡️Irresistible Offer Architect: Secure More Stages with Irresistible Offers
🏆Stage Conquering Secrets: Achieve Elite Speaker Confidence
Phase 3: Success
💥Earnings Explosion: Unlock High-Paying Speaking Opportunities
🎯On Demand Stages: Win Stages On-Demand with Proven Strategies
💎Growth Crew Generator: Grow Your Business with Effective Team Building
And that's not all! With our series of One Page Cheatsheets & Accelerator Workbooks, we'll guide you step-by-step through each phase, helping you overcome common struggles and apply proven strategies to achieve your goals.
Every Top Speaker is fueled by more than just passion; they're driven by a proven SYSTEM. While others are stuck daydreaming, Top Speakers are on stage, changing lives. Don't be held back by mere dreams and goals — it's time for you to become a WINNER. With the Top Speaker Playbook, we'll transform your aspirations into achievement, your vision into victory. Are you ready to make your speaking dreams a reality? We'll see you on the inside, Champion! 🏆 
TESTIMONIALS
Kind Words From Extraordinary People
"I always dreamed of speaking. The Playbook and Coaching helped me launch my business and make 6 Figures in the 1st year. Now my 3rd year in a row I'm making over 6 Figures!"


Dr. Trevino
Certified Top School Speaker
"Top Speaker Playbook is a phenomal program for anyone to become a school speaker!! Such a powerful community of people who want you to be the best and help you succeed!"
Germard Reed
Former NFL Player and Certified Top School Speaker
"WOW! I always wanted to write a book. Still can't believe I have a #1 Bestseller and made $10,000 Speaking my 1st month! WOW!!!"
Kristina Villareal
Educator, Author, and Certified Top School Speaker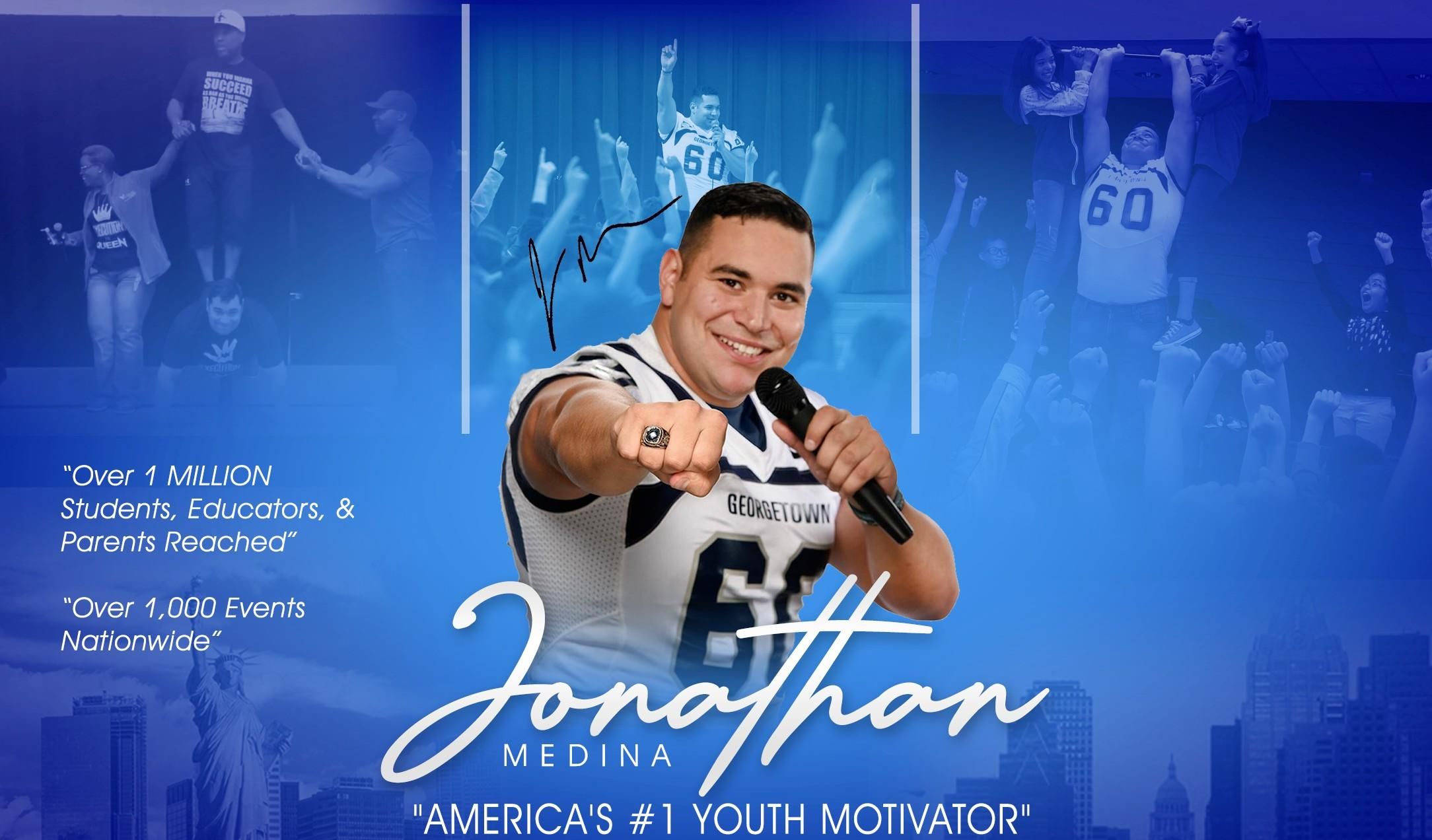 Meet Jonathan Medina, "America's #1 Youth Motivator," Founder of Top School Speakers, and Top Speaker Head Coach
Jonathan Medina's story of triumph over adversity has fueled his passion to make a lasting impact on the world. Growing up in the U.S.'s lowest income community and facing familial incarceration, he rose to graduate in the top 10 of his high school and pursued his dreams at Georgetown University.
As America's #1 Youth Motivator, he founded Top School Speakers, speaking on thousands of stages to over 1 million people.
His drive didn't stop there. Partnering with Awareness Elevation, Jonathan and Top School Speakers have launched the Top Speaker Playbook and the Fall 2023 Youth Impact Speaker Scholarship program, furthering his mission to empower others. 
Guided by the belief that anyone can realize their dreams, he's passionate about providing clarity, avoiding overwhelm, and empowering Aspiring Speakers, Educators, and Everyday Heroes to get booked and paid to speak. Jonathan's story is more than a tale of overcoming odds—it's a testament to the boundless potential within us all, fueling a drive to make a difference.
Meet LynAnn Weaver
Certified High Performance Coach™ & Top Speaker Coach 

LynAnn, a master of human performance with 15 years' of business and leadership experience, is an unstoppable force in overcoming adversity. Surviving a near-fatal accident, an abusive marriage, and corporate challenges, she emerged as a beacon of resilience and triumph.
A Certified High Performance Coach and a Great American Speak Off semi-finalist, LynAnn's blend of science and real-world wisdom transforms roadblocks into staircases. Her approach goes beyond leadership, sparking self-awareness, empowerment, and unlocking boundless potential.
Join LynAnn on a journey that's more than coaching; it's an electrifying experience leading to new heights, inspiring you to embrace your true potential.
Meet James Pyle
Certified High Performance Coach™ & Top Speaker Coach 
From the ashes of adversity to the pinnacle of success, James Pyle embodies the essence of relentless triumph. His story is one of true transformation - from battling the haunting echoes of childhood trauma and addiction to carving out his own space amongst the top 1% of leaders.

James Pyle is more than a renowned speaker and Certified High Performance Coach™. He's a symbol of resilience, turning challenges into stepping stones and erecting 7-figure businesses from minimal startup capital. His unique blend of theoretical wisdom and real-world experience makes his mentorship transformative.
James isn't just about leadership; he's a guide to living with purpose and passion, proving that adversity is a powerful ally on the path to greatness. Join James on this life-changing odyssey—it's not merely a journey, it's an awakening.

Frequently Asked Questions
How do I know if this program is right for me?
How do I qualify for a scholarship?
How many people will be in each community focus group?
How quickly can I expect results?
Do you offer a money-back guarantee?
Your Speaking Dreams Are Just One Click Away!
---
Get access to the top-rated Top Speaker Playbook training course and elite coaching.
APPLY TODAY